Hardware, Fasteners & Fittings for 2006 Cadillac Escalade ESV
Related Parts
Part # / Description
/ Price
Price
LS7 Bare Engine Block Hole Plug
Engine Core Plug
5/8". Location-Engine Block. This GM Genuine Part is designed, engineered, and tested to rigorous standards and is backed by General Motors
Engine Core Plug
Location-Cylinder Head. 32.03mm. Location-Engine Block. 32.03mm. Coolant (32.03x7.88x1.27). Yukon.
M8x1.25 Multi-Purpose Bolt
Engine Crankshaft Main Bearing Cap Bolt
Threads Into Side of Bearing Cap. 8 x 1.25 x 24mm. Fastens vehicle's components together
This GM Genuine Part is designed, engineered, and tested to rigorous standards and is backed by General Motors
Original equipment parts are designed to work with your GM vehicle safety systems -- aftermarket replacement parts may not meet the same OE safety regulations, depending on the part typeProduct sold as each.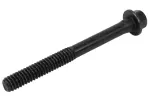 M10x2x102.5.5 Crankshaft Bearing Cap Bolt
Engine Crankshaft Main Bearing Cap Bolt
Threads Into Bottom of Bearing Cap. 10 x 2 x 102.5mm. This GM Genuine Part is designed, engineered, and tested to rigorous standards and is backed by General Motors
Crankshaft Bearing Cap Stud
Engine Crankshaft Main Bearing Cap Stud
This GM Genuine Part is designed, engineered, and tested to rigorous standards and is backed by General Motors
M8x1.25x45 Engine Cylinder Head Bolt
Engine Cylinder Head Bolt
8 x 1.25 x 45mm. Fastens vehicle's components together This GM Genuine Part is designed, engineered, and tested to rigorous standards and is backed by General Motors Original equipment parts are designed to work with your GM vehicle safety systems -- aftermarket replacement parts may not meet the same OE safety regulations, depending on the part type